NFIB Endorses Bolinsky for Re-Election - Lawmaker Recognized for Pro-Business Efforts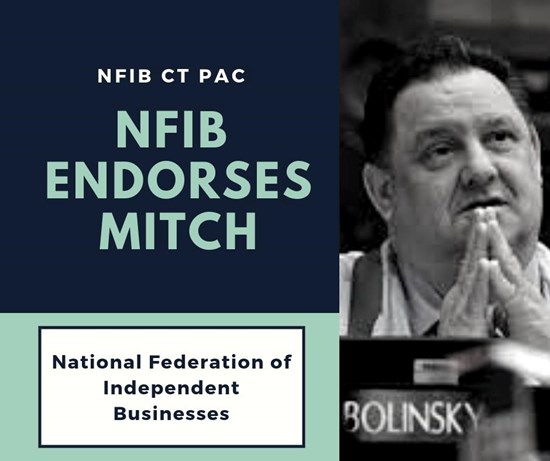 The nation's leading advocacy group for small businesses has endorsed State Representative Mitch Bolinsky (R-106) for his efforts on behalf of job creators, signaling to its members that he should be sent back to the legislature to help promote Connecticut's economic recovery.
In their endorsement of Bolinsky on Friday, Wendy Traub, Chair of the National Federation of Independent Business' (NFIB) Connecticut political action committee wrote to the Newtown Representative, "…you will be committed to the needs of thousands of Main Street small businesses and their employees in Connecticut when you are elected to serve in Hartford. Thank you for standing with NFIB on the issues important to small business."
NFIB is the leading small-business association in America, with thousands of Connecticut members representing a cross-section of the state's economy. For more than 75 years, NFIB has advocated on behalf of America's small and independent business owners in all 50 state capitals & Washington DC.
Bolinsky concluded, "Small businesses are the heart and soul of Connecticut. Thanks to NFIB for again endorsing me and recognizing my continued dedication to business. Now, more than ever, we agree it's critical to provide them a positive climate in which to unleash their full potential to grow, invest and create good jobs. That's how we'll restore Connecticut's stalled economy and deliver greater state revenues – without tax increases. A healthy Connecticut economy will be more affordable for all and driven by growth. Small business growth."