M4N's Sept.18, 2020 Ad in Our Community Newspaper, The Newtown Bee
Mitch for Newtown supports Local News and Local Businesses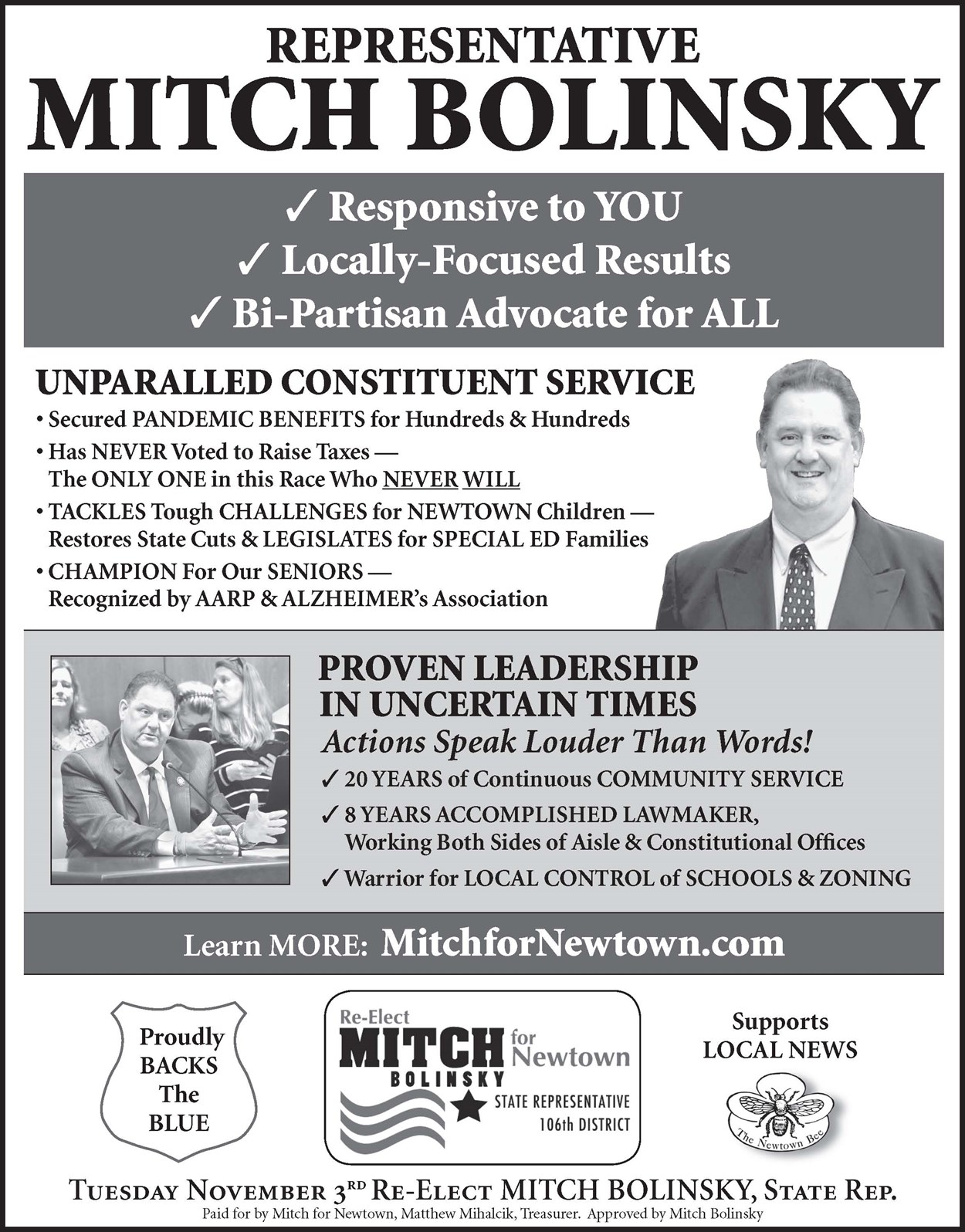 I LOOK FORWARD TO A 5th-TERM SERVING YOU & LOVE OUR TOWN. I'VE BEEN WORKING FOR YOU SINCE 2000, LONG BEFORE YOU FIRST ELECTED ME TO BE YOUR STATE REP IN 2012. AT THE MOMENT, LIFE IS A BIT "DIFFERENT" FOR MANY OF US BUT, MY COMMITMENT TO YOU IS STRONGER THAN EVER!
Welcome!
This site and my entire campaign is about you. Your family. Your business. Having a safe, thriving Community.
It's about our Newtown, our Connecticut, our quality of life and how you and we want our state's fiscal problems to be responsibly solved so your life, your children's lives, your parent's lives and your business or job can be secure, grow and prosper again.
I declare that 2020 will NOT be our "New Normal". We deserve to live free again, without the invisible threat of the COVID-19 virus. When we get back to an "Acceptable Normal", it will be critical to take our lessons-learned in 2020 and be smart about rebuilding Connecticut to serve Newtown better than the current and old "Status Quo" did.
You have the right to be free from the scourge of constantly rising taxes and diminishing returns. You're already taxed too much. I am opposed to Tolls, without an equivalent tax credit for CT residents and I will never vote for a new "revenue stream" to increase your tax burden. I've respectfully fought 8-years for your right to a Connecticut that's more affordable and on an upward trajectory. Years of failed progressive policy has built a special-interest "Government Class" of career politicians who believe your earnings are theirs to spend. They thank you every year by raising your taxes for programs and to pad the nests of special-interests that, in-turn, invest heavily in their re-elections. None of this improves your life. I know we can do better and am a fighter for you.
Re-Electing me is your stake to a better, more affordable Connecticut that is more responsive to you and runs with efficiency, not like it has in the shutdown that has been and continues to be the COVID-19 response.
With your help and your vote, we're going to grow Connecticut, balance budgets; make good on our obligations; restore fairness; give a voice to taxpayers like you who pay the freight; solidify public education; respect our state's most vulnerable residents and; have good roads to travel. Of course there's a lot to do but, it all starts by fixing nearly 35-years of fiscal waste and cronyism. Let's get to work, shall we?
The process must be a transparent, inclusive, bipartisan effort; not something Hartford is known for but, through tough times, I'm proud to have solidified my already sturdy bridges. In 8-years serving you, there have been frustrating times with a majority that locks others out of the room. In the heat of battle, I've drawn strength from bipartisan connections. That strength is your power. That power is how we move forward.
Your vote and those of your family, neighbors and friends will allow me to keep doing good for Newtown.
Thanks for reading this far. Do you have questions, challenges, want express your support, or volunteer to be part of a winning team? Reach out. My cell is (203) 470-2728 and email is Mitch@MitchForNewtown.com.
Here's to our getting through these strange times and to a better, more user-friendly Connecticut. Ready???
- Mitch
News
Friday, September 4, 2020 11:38 AM
The state's Acting Consumer Counsel, Richard E. Sobolewski, announced that all Eversource customers will be provided another opportunity for public comment on Eversource Energy's recent rate increases and related issues.
The additional public comment hearing comes following the Public Utilities Regulatory Authority's (PURA) consideration of the Office of Consumer Counsel's (OCC) Motion requesting further opportunity for live public comment on behalf of those ratepayers who may not have been able to attend the initial hearing. PURA heard initial comments from the public at a hearing on Eversource's rate increase on August 24. Given the extended length of that hearing OCC expressed concerns that some consumers who wished to speak were unable to remain present until the public comment portion of the hearing.
"Public comment is crucially important for regulators to hear and all comments become an official part of the PURA record in this investigation. Too often the voice of the public is excluded from the regulatory process—I encourage every single Eversource customer to contact my office to register and ensure that PURA takes their input into account."
The PURA public comment hearing was held via Zoom on September 10, 2020. Consumers may contact the OCC via email at occ.info@ct.gov or by telephone at 860-827-2900.
Following the receipt by consumers of higher than anticipated electricity bills in July, Governor Ned Lamont requested that PURA investigate recent rate increases by Eversource. The investigations are occurring in PURA Docket No. 20-01-01. OCC is actively participating in both proceedings to ensure that the perspective of electric ratepayers is adequately represented.
PURA is still accepting written public comment and those Eversource customers who wish to comment in writing are encouraged to submit their written comment to PURA via e-mail at pura.executivesecretary@ct.gov referencing Docket No. 20-01-01. Up to date information on upcoming hearings and registration information may be accessed on PURA's Calendar of Events.
In addition, PURA has scheduled three upcoming public comment hearings for October 21st, 22nd, and 23rd at which time the public will have the opportunity to comment on Eversource and United Illuminating's responses to Tropical Storm Isaias. Members of public seeking more information should contact PURA at the e-mail address above referencing Docket No. 20-08-03.
---
Wednesday, August 12, 2020 10:00 AM
Eversource let us down. Share your concerns and opposition to Eversource's large, badly-timed, pandemic rate increase we're trying to roll back by submitting testimony to the state's Public Utilities Regulatory Agency (PURA) before their August 24 hearing, on Zoom at 10 am!
Anyone planning to log in and participate must register ahead of time by CLICKING HERE
Those wishing to just view the meeting may do so online by tuning into ct-n.com or on Zoom, using meeting ID number is 927 7463 1605.
Written testimony becomes part of the public record. To submit constructive testimony, residents are asked to compose and e-mail it three days prior, to pura.information@ct.gov and to copy mitch.bolinsky@housegop.ct.gov.
---
Tuesday, August 11, 2020 5:07 PM
To the Editor:
I would like to give praise to State Representative Mitch Bolinsky.
I wrote to a few politicians asking for help with a problem I am having. Months went by with no answer. A friend told me to write Mitch Bolinsky, that he tries to help people all the time.
I mailed a letter to Mitch and within three days he called me. I explained my problem and he said he would see what could be done.
This is the type of politician the people want and need. Mitch has given me hope.
So, thank you, Mitch, for providing a light at the end of a very dark tunnel.
---
Thursday, August 6, 2020 4:36 PM
Add your news summary here.
---
Tuesday, July 28, 2020 5:30 PM
"Someone like Mitch being a part of our government honestly gives me hope, and brings me peace knowing that there are elected officials who actually care about people and their communities."