THANK YOU, NEWTOWN...
...for Re-Electing Representative Mitch Bolinsky to a 5th-term serving YOU!
Our 2020 Campaign Web Page is Closed but, the Representative's Legislative Site is Always Open!
Visit RepBolinsky.com for Session and Legislation Status, Mitch's Bio, References, Contact Information and More. There, You Can Opt-in to Mitch's E-blast updates, in which he shares locally important state issues, solicits feedback, issues road construction updates and information about the State's Pandemic Response.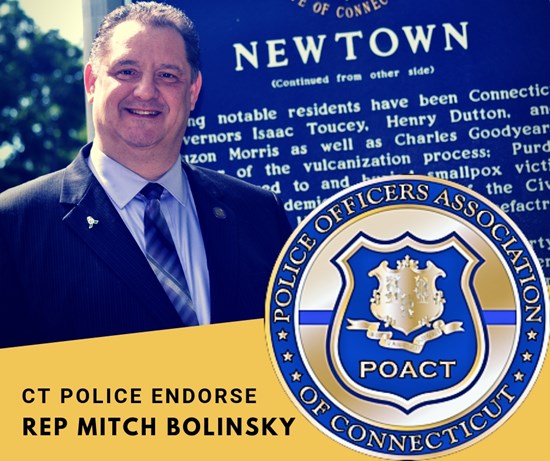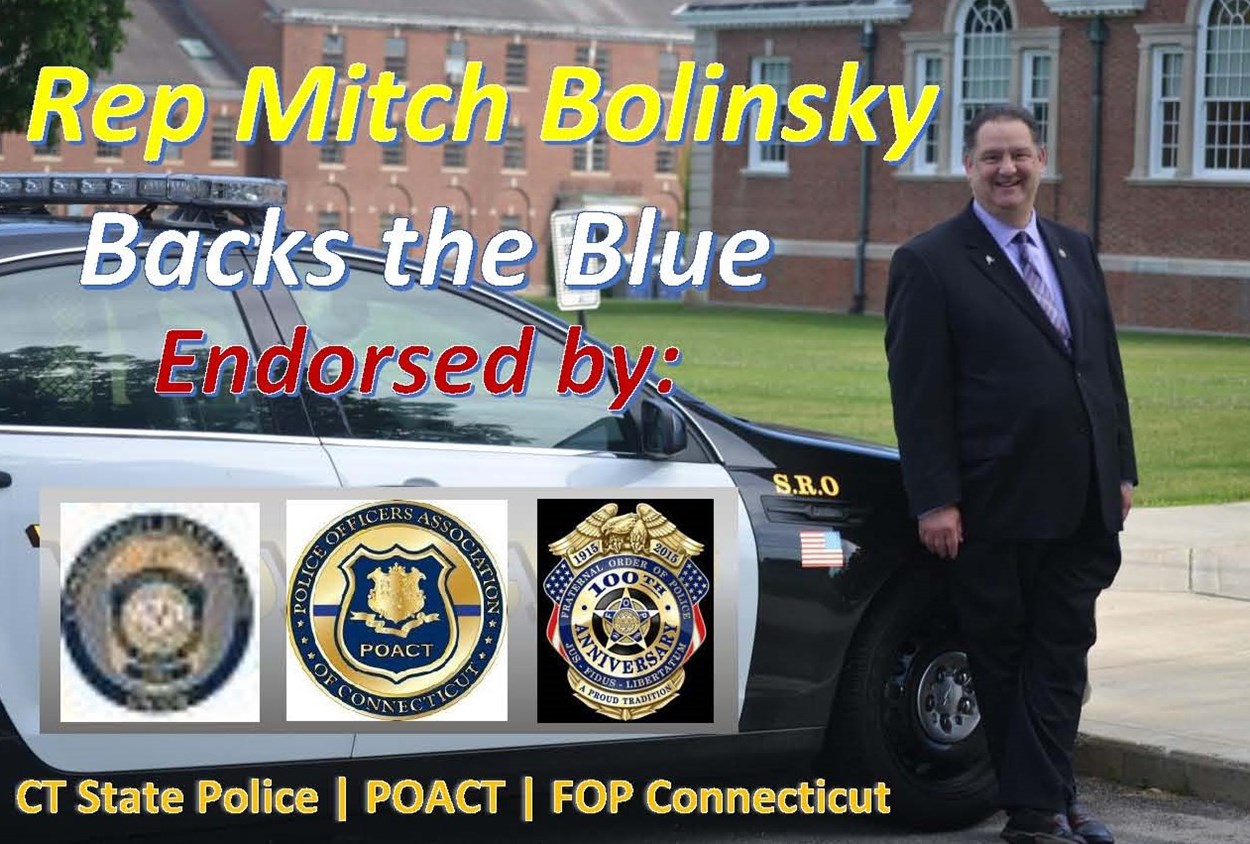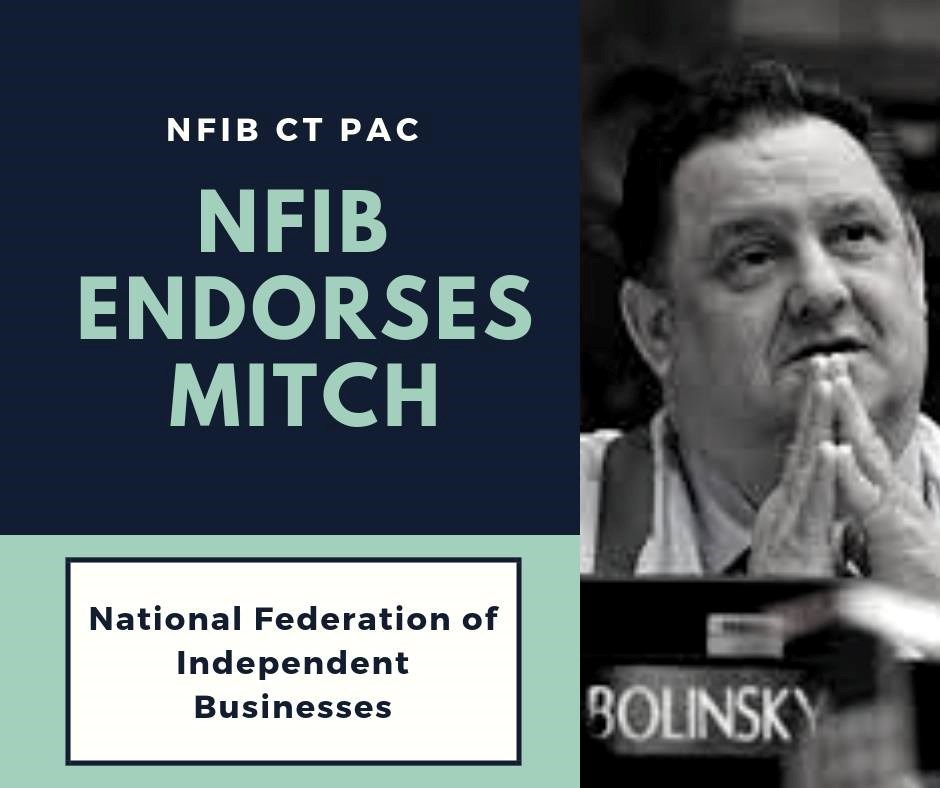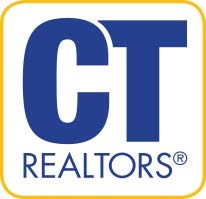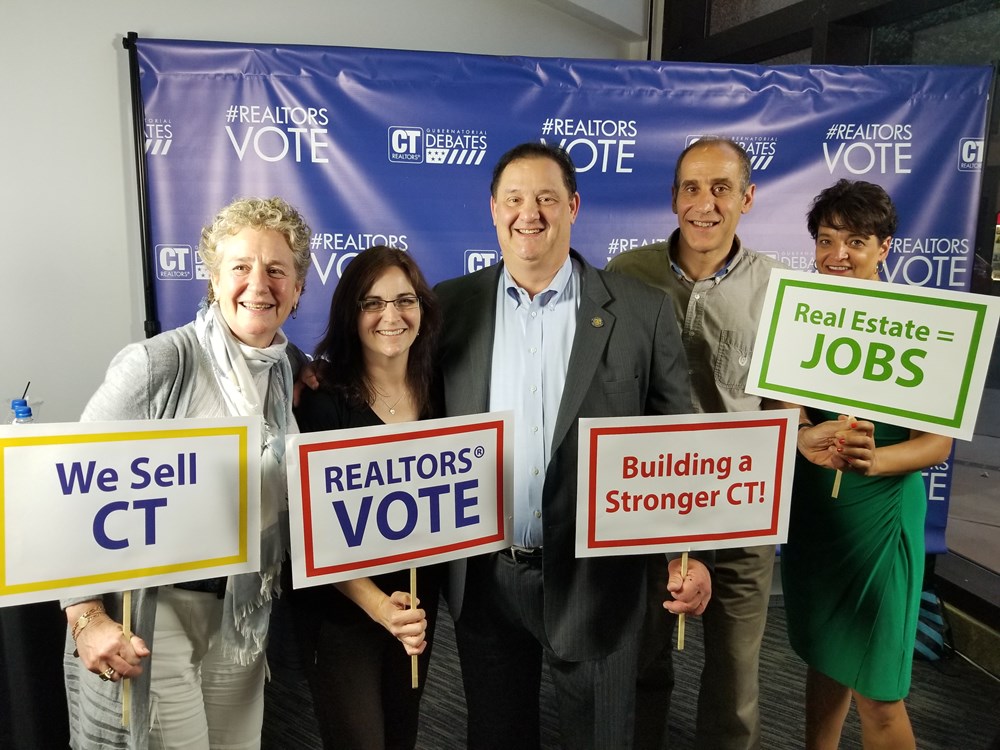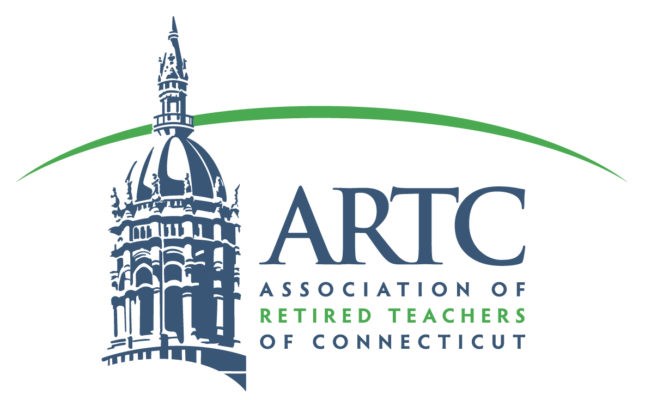 M

4N's Oct. 30, 2020 Ad in Hometown Newspaper, The Newtown Bee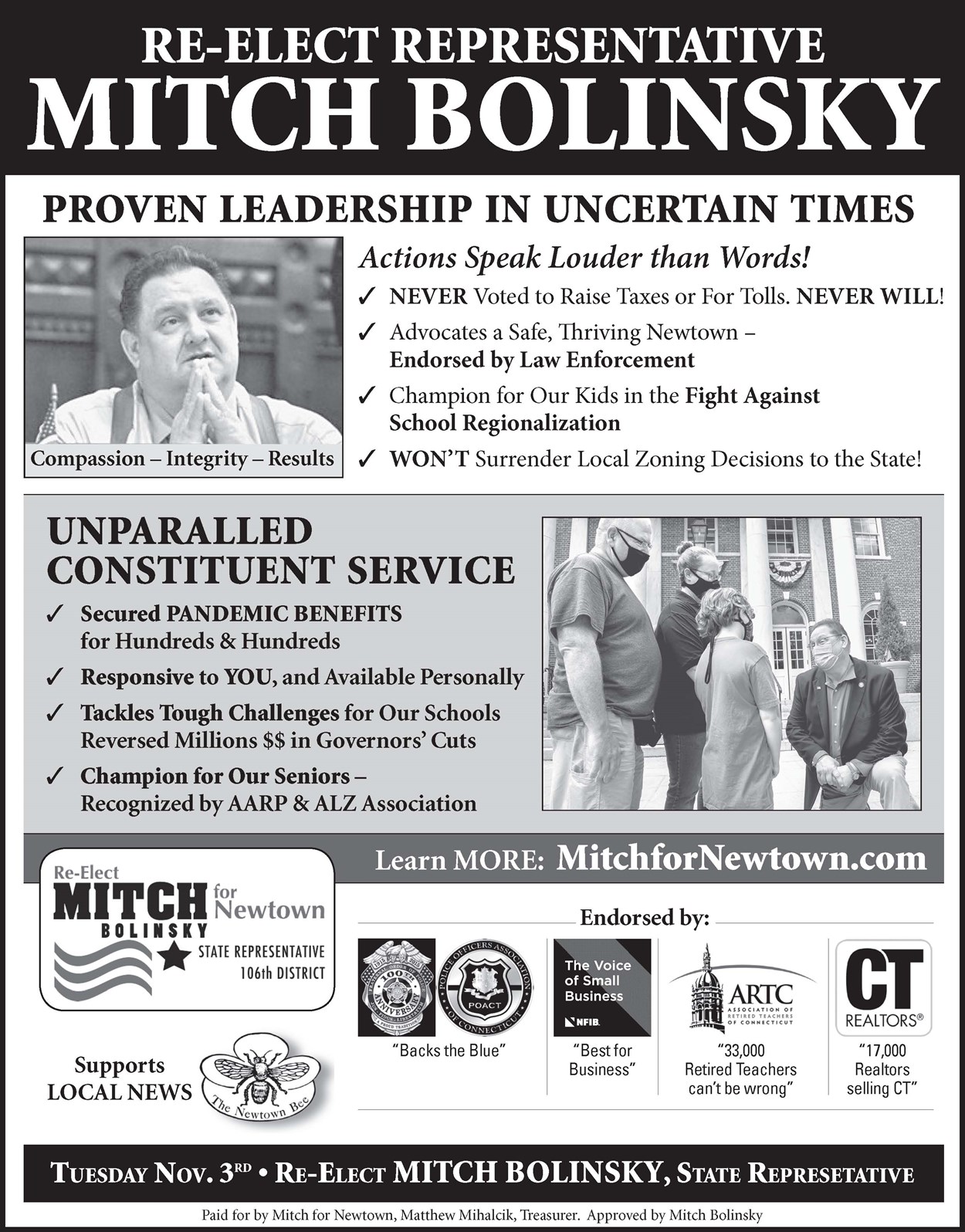 Mitch for Newtown su

pports Local News and Local Businesses
THANK YOU FOR ELECTING ME TO A 5th-TERM SERVING YOU & LOVE OUR TOWN. I'VE BEEN WORKING FOR YOU SINCE 2000, LONG BEFORE YOU FIRST ELECTED ME TO BE YOUR STATE REP IN 2012. AT THE MOMENT, LIFE IS A BIT "DIFFERENT" FOR MANY OF US BUT, MY COMMITMENT TO YOU IS STRONGER THAN EVER!
Welcome!
This site and my entire campaign is about you. Your family. Your business. Having a safe, thriving Community.
It's about our Newtown, our Connecticut, our quality of life and how you and we want our state's fiscal problems to be responsibly solved so your life, your children's lives, your parent's lives and your business or job can be secure, grow and prosper again.
I declare that 2020 will NOT be our "New Normal". We deserve to live free again, without the invisible threat of the COVID-19 virus. When we get back to an "Acceptable Normal", it will be critical to take our lessons-learned in 2020 and be smart about rebuilding Connecticut to serve Newtown better than the current and old "Status Quo" did.
You have the right to be free from the scourge of constantly rising taxes and diminishing returns. You're already taxed too much. I am opposed to Tolls, without an equivalent tax credit for CT residents and I will never vote for a new "revenue stream" to increase your tax burden. About new taxes and tolls, my opponent is "on the record" saying we need to "find new revenue" and consider tolls as yet another revenue option.
I've respectfully fought 8-years for your right to a Connecticut that's more affordable and on an upward trajectory. Years of failed progressive policy has built a special-interest "Government Class" of career politicians who believe your earnings are theirs to spend. They thank you every year by raising your taxes for programs and to pad the nests of special-interests that, in-turn, invest heavily in their re-elections. None of this improves your life. I know we can do better and I have a well-thought-out plan to do just that. I work for and fight for you - not special-interests.
Re-Electing me is your stake to a better, more affordable Connecticut that is more responsive to you and runs with efficiency, not by turning its back on you in the shutdown that's been and continues to be its COVID-19 response. While I've been working for you every day, the rest of your government has not. That's why people call me and why I don't stop until their issues are addressed. It's gratifying, honorable work.
With your help and your vote, we're going to grow Connecticut, balance budgets; make good on our obligations; restore fairness; give a voice to taxpayers like you who pay the freight; solidify public education; respect our state's most vulnerable residents and; have good roads to travel. Of course there's a lot to do but, it all starts by fixing nearly 35-years of fiscal waste and cronyism. Let's get to work, shall we?
The process must be a transparent, inclusive, bipartisan effort; not something Hartford is known for but, through tough times, I'm proud to have solidified my already sturdy bridges. In 8-years serving you, there have been frustrating times with a majority that locks others out of the room. In the heat of battle, I've drawn strength from bipartisan connections. That strength is your power. That power is how we move forward.
Your vote and those of your family, neighbors and friends will allow me to keep doing good for Newtown.
Thanks for reading this far. Do you have questions, challenges, want express your support, or volunteer to be part of a winning team? Reach out. My cell is (203) 470-2728 and email is Mitch@MitchForNewtown.com.
Here's to our getting through these strange times and to a better, more user-friendly Connecticut. Ready???
- Mitch
News
Monday, October 26, 2020 12:02 AM
"Whether you're a Republican or Democrat, please reelect Rep. Mitch Bolinsky. I am a hairstylist in town and we were all out of work as of March 20th. Each of us quickly submitted claims of unemployment and the owner, Leslie Beard, applied for the small business stimulus.
We all did what was asked of us, and continued to have issues with the DOL. We made repeated calls, wrote letters, sent e-mails, and received nothing from March until June. It was frightening and added to the pressures of the situation.
Finally, I came in contact with Mitch and he e-mailed me back within hours. He explained how he was going to handle it, and within ten days I had all ten weeks of my unemployment money deposited into my bank account. I actually sat and cried out of relief. The state had sent an e-mail in response to my many pleas for help finally in August, but Mitch solved it in a matter of days. He did the same for owner Leslie and many others who have struggled with the DOL during the pandemic.
We generally try not to talk politics in a salon environment, but Mitch is the exception because of what he has done for us and continues to do for the people. He is a legislator who cares and only wants to help and attack the issues head on as they come."
Sincerely,
Isabella Perugini, Nathalie Lariviere, and Leslie Beard
---
Sunday, October 25, 2020 11:12 PM
Rep Bolinsky's "Contrast Mailer"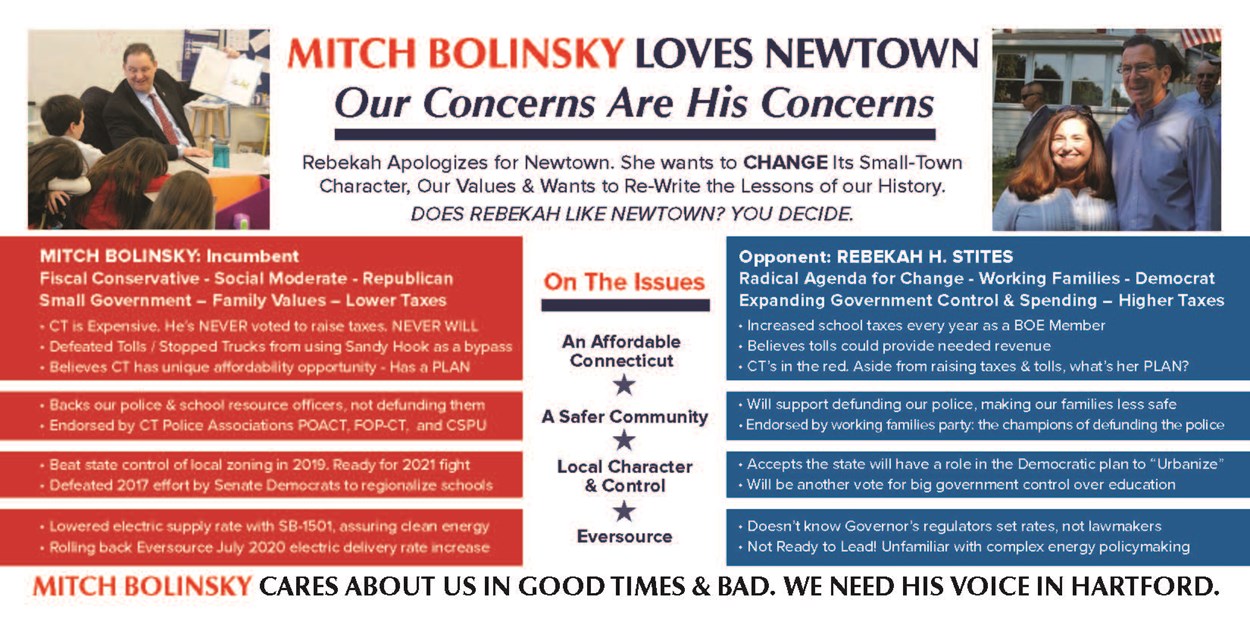 ---
Friday, October 23, 2020 11:37 PM
"Newtown needs the continued, experienced support of Representative Mitch Bolinsky. Mitch has built eight years of successful leadership that cannot be matched by his inexperienced opponent. Mitch has shown his support for police, he's defended domestic violence policy, he routinely offers guidance to Newtown residents with insurance and/or unemployment issues and he's stood up in support of legislation benefiting all of Connecticut. These are just a few of the items on Mitch's resume.
Mitch has voted to and influenced fellow legislators to defeat tolls five times. Mitch supported the rebuilding of the Sandy Hook School and did not support the recent unjustified Eversource rate increases. These are facts, traceable, and cannot be blurred. Mitch works around the clock for his constituents. For example, during Thanksgiving of 2019, Mitch helped 18 Newtown families secure heating oil for the winter months. Further examples would fill this page. During these uncertain times a novice will not have the capacity to serve our community nor the state as effectively as our incumbent. Mitch is the only individual that can effectively stand up for us. Join me in voting for Mitch Bolinsky for State Representative."
Joe Girgasky
---
Friday, October 23, 2020 11:29 AM
"Inspired to Vote" Inspiration from Troy Kinnard, a Descendant of John & John Quincy Adams
"Not being a very political person, I had an issue that arose and needed help. I turned to State Representative Mitch Bolinsky. Mitch returned my call and I had explained to him my issue, and [he] worked on my behalf to resolve the problem. I can honestly say to my fellow Newtown residents that he truly does care about you, and works hard as your Representative. In fact, I decided to vote for the first time in decades because of him. I know nothing about the person he is running against, but have gotten to know Mitch. He is well qualified and will continue to serve Newtown with distinction. Every vote counts, and yours does too."
Troy Kennard
---
Thursday, October 22, 2020 11:21 PM
"Over the years I have seen Mitch go to bat for Newtown residents time and time again, whether it's his persistence on helping our senior residents, or just helping someone in town who has a specific need. I can think of no one better to represent all citizens of Newtown, and his experience and resume speak for themselves.
As our representative, Mitch has served on the Education Committee, where he works on critical issues for Newtown children. Through Mitch, Newtown has a voice in that important committee where he hears and collaborates on bills that set policy statewide. As Connecticut's financial woes create massive budget pressures, Mitch has fought and saved millions in funding for our children's schools. He has secured many grants for our community.
I know Mitch is quite proud of the work he has done for the Special Education community, from the many bills he has passed to co-founding the IDD Caucus.
Mitch is a caring person who always seeks to help those in need. He is a kind neighbor and a great friend.
Please join me in supporting Mitch on November 3rd."
** Note: In addition to his work on the Education Committee, Rep. Bolinsky also serves on the legislature's powerful, budget-writing Appropriations Committee and is a dedicated leader on the state's Aging Committee.